Algonquin Park is home to some of the best sightseeing in the country, and when it comes to moose watching there is no Provincial Park that will come close to the number of interactions you will have in this pristine wilderness. Algonquin is a few hours outside of Toronto and has continually been named the top park to visit in Ontario. With luscious greenery, seemingly thousands of lakes and animals scattered throughout the park, Algonquin is worth the trip. However, when it comes to spotting moose there are some specifics to remember.
First and foremost
The best season for moose watching is in the Spring. Generally, you will still have some snow on the ground, but this is when the moose are most active and will be galloping around the park. Make sure to bring rain gear, as Northern Ontario is infamous for its rainy Spring time. For the best vantage points, journey down the Highway 60 corridor, and make sure to keep an eye on the road!
Secondly, timing is essential
Head out in the evening, or if you are an early bird, dawn is the best time to spot these massive animals. It is the coolest part of the day, and the animals will be looking for their afternoon siesta spot. Make sure to stay by waterways as generally, moose will frequent lakes, streams or rivers to not only drink water but eat the surrounding grass.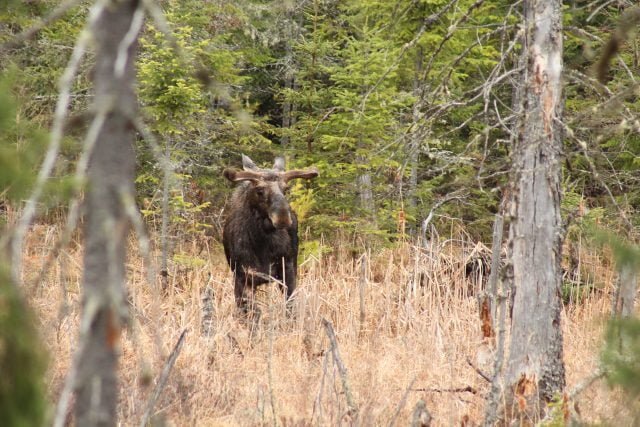 Third, make sure that you bring a pair of binoculars
Not only will this allow you to spot other wildlife, but will allow you a close-up interaction, without the dangers that come with an actual physical interaction. Remember, you are witnessing a moose in its natural habitat and not the other way around!
Fourth, you will need to concentrate on low-lying wet areas such as bogs, ponds, and beaver meadows
As mentioned above, Highway 60 is your best options as there are a number of interpretive trails to head down to witness some amazing wildlife. I would strongly suggest checking out the Mizzy Lake trail, the Beaver Pond Trail and the Spruce Bog Boardwalk, all of which are popular for moose and the humans who like to watch them.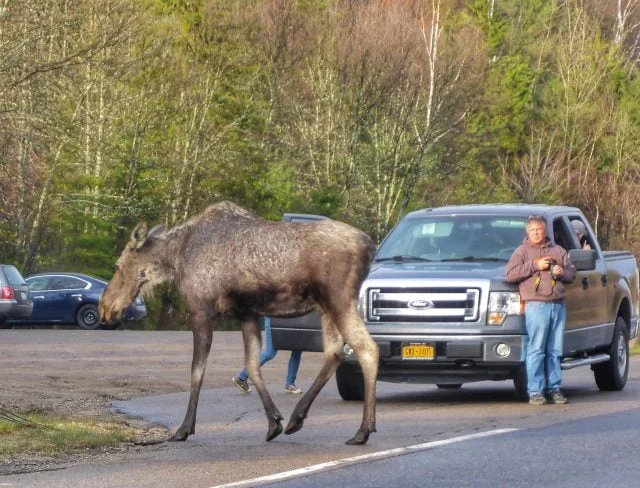 Fifth, and most importantly please be aware
Not only for the animals but for the other humans around you. If you spot an animal you want to take a better look at, pull over to the shoulder of the road and stop. As well, if you want to cross the road, make sure to look both ways, it is a highway after all. Finally, remember to keep a safe distance from the animals as their behaviour can sometimes be unpredictable in the Spring time due to mating.
Algonquin Park in the Spring is ripe for moose watching, and you will fall in love with the true beauty of the surroundings. Remember your camera, a good rain jacket and some sturdy boots, and you should be well on your way to an amazing time in one of Canada's top parks.
If you are looking for a day tour from Toronto to Algonquin Provincial Park, Travelling Chicken is your best choice of group or private tour. Group tours are great for solo travelers, couples or small groups. Check Algonquin Park day tour here.
Our summer and fall Algonquin adventures also include canoeing and swimming experience. You can book summer adventure tour here.
If you are planning to drive to Algonquin Park on your own, you can check all the updates at the official Algonquin Provincial park website.