The onset of snowy weather in Canada can be scary — long commute times, poor driving conditions and so many layers of clothing! It's easy to get put off by the cold. Sometimes we even forget everything winter has to offer when in fact, the snow also brings a wealth of super fun seasonal activities. Instead of planning to hibernate with a Netflix subscription, a Snuggie and a bulk supply of hot chocolate mix, take advantage of the season and get out exploring Central Canada. You'll be surprised at how much fun you can have in a toque!
Here are the top six activities to include on your winter bucket list:
1) Dog Sledding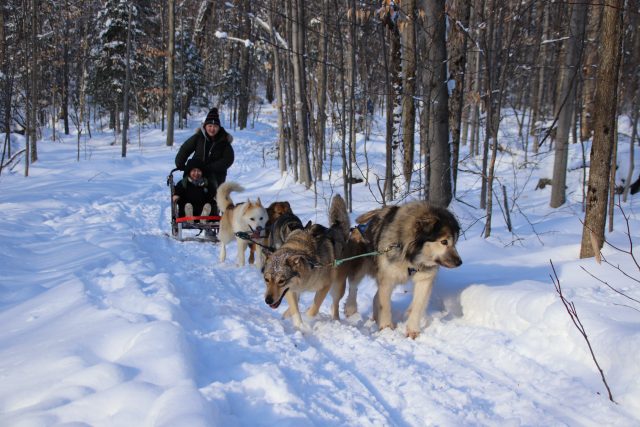 This is a classic! Experience tradition, sport and the northern life by letting a team of Alaskan Sled Dogs or Siberian Huskies race you down snow-covered trails in Algonquin Park, Haliburton or Quebec City. Don't forget to say 'mush!'
Book dog sledding day tour with Travelling Chicken – Ontario Adventure tours here. 
2) Skating on the Rideau Canal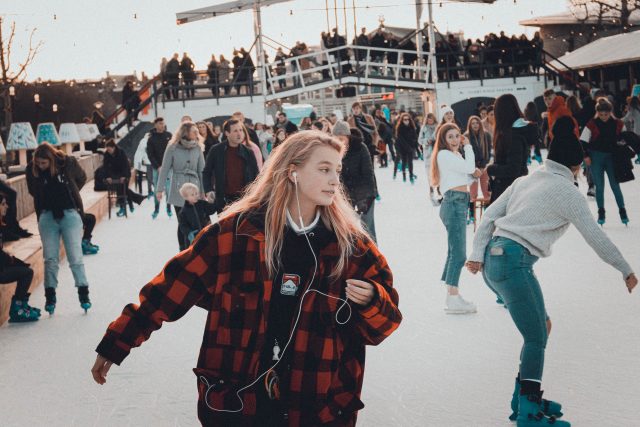 Lace up your skates and go for a spin on the world's largest skating rink, a UNESCO World Heritage Sight in the heart of our beautiful capital city. There's nearly 8 kilometres of natural ice for you to sprint, twirl or make snow angels on — whatever your skill level. If you get tired, you can stop for hot chocolate and warm BeaverTail pastries at three rest points along the way. In February, the city and the Skateway play host to the Winterlude festival! For three weekends you can enjoy a ton of winter activities including; ice sculptures, a snow playground, and a bed race on a lake! This one's not to be missed.
3) Hitting the Slopes at Mont Tremblant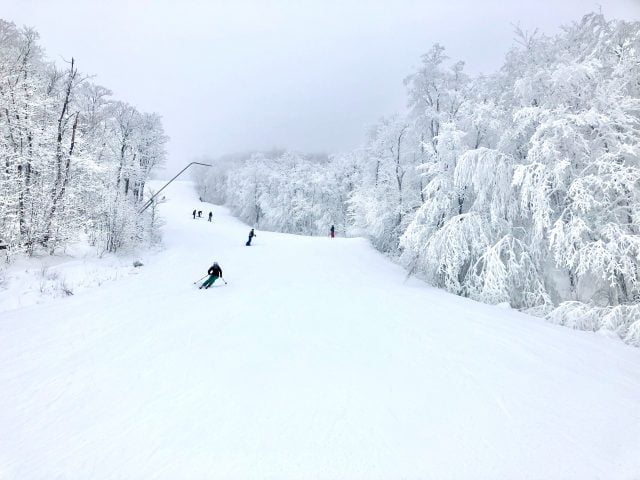 If you're a skier or a snowboarder, this is the place for you! As the highest peak in Quebec's Laurentian Mountains, Mont Tremblant has been recognized time and again as the best ski resort east of the Rockies. It has 96 trails on four slopes, 12 ski lifts and a bustling village for guaranteed good times from sunrise to long after sunset. Après-ski anyone?
4) Snow Tubing
Don't know how to ski or snowboard but want to have fun on the hills? Get out your snowsuit and head to a tube park at one of Ontario's resorts! This is an easy and fun way to spend a day with the whole family. Racing and spinning down a slick tube course is like tobogganing in luxury. Top it off with some poutine at the chalet and you're sure to be a winter-lover in no time. Tubing is offered at many Ontario resorts but the best terrain can be found at Snow Valley near Barrie.
5) Meeting Bonhomme Carnaval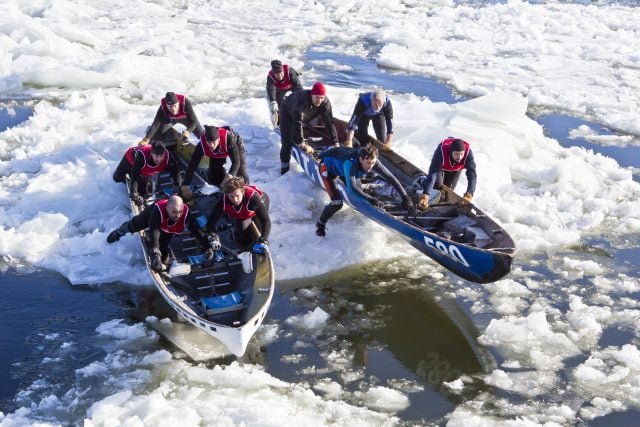 The king of the Quebec Winter Carnival, this jolly mascot is the spirit of the festival. The mayor even gives him the keys to the city for the duration of the event! Give him a hug or a wave at one of the carnival parades. Don't forget to check out the snow sculpture competitions or the ice canoe races while you're there. Of course, no visit would be complete without a stay in the Ice Hotel, the only place in North America where you can spend the night in a room made entirely of ice! Is that 'cool' or what?
6) Relaxing in a Nordic Spa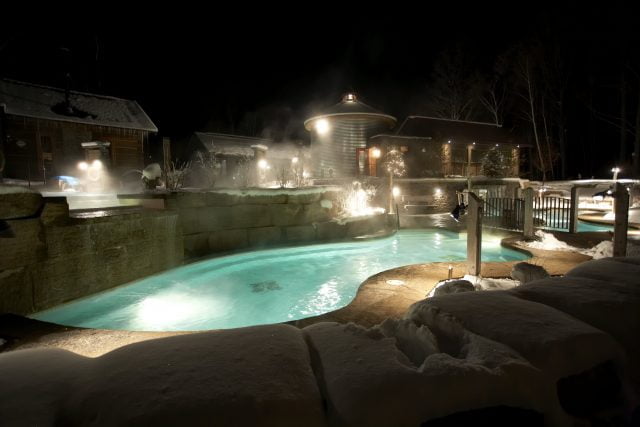 Not the active type? Here's an idea for you: spend the day enjoying the physical and psychological benefits of thermotherapy at a Nordic Spa! Alternate between hot and cold treatments in a variety of steam baths, saunas, thermal waterfalls and cool pools that are all outdoors. You'll feel relaxed and rejuvenated in no time.
Book Blue Mountain day tour with Travelling Chicken – Ontario Adventure tours here.
Of course, there are plenty more activities to get you out and enjoying the winter weather; snowshoeing, cross-country skiing, tobogganing, horse-drawn sleigh rides. It's Canada, after all. Whatever it is you choose to do to make the most of the season, make sure you bundle up and get out exploring our fun-filled central provinces. With a little motivation (and the right parka!) it can easily be the best time you'll have all year!
How to join winter activities in Ontario and Quebec?
Travelling Chicken will take you weekend getaway trips such as dog sledding, skiing or snow rafting. Check all winter adventures at www.travellingchicken.com.