Information

Tour Plan

Gallery

Similar Tours

Frequently Asked Questions
Two Days Camping Tour in Bruce Peninsula
What's included
Additional Information
Availability: May - October
Additional Prices
Private Tours: From $1100 CAD$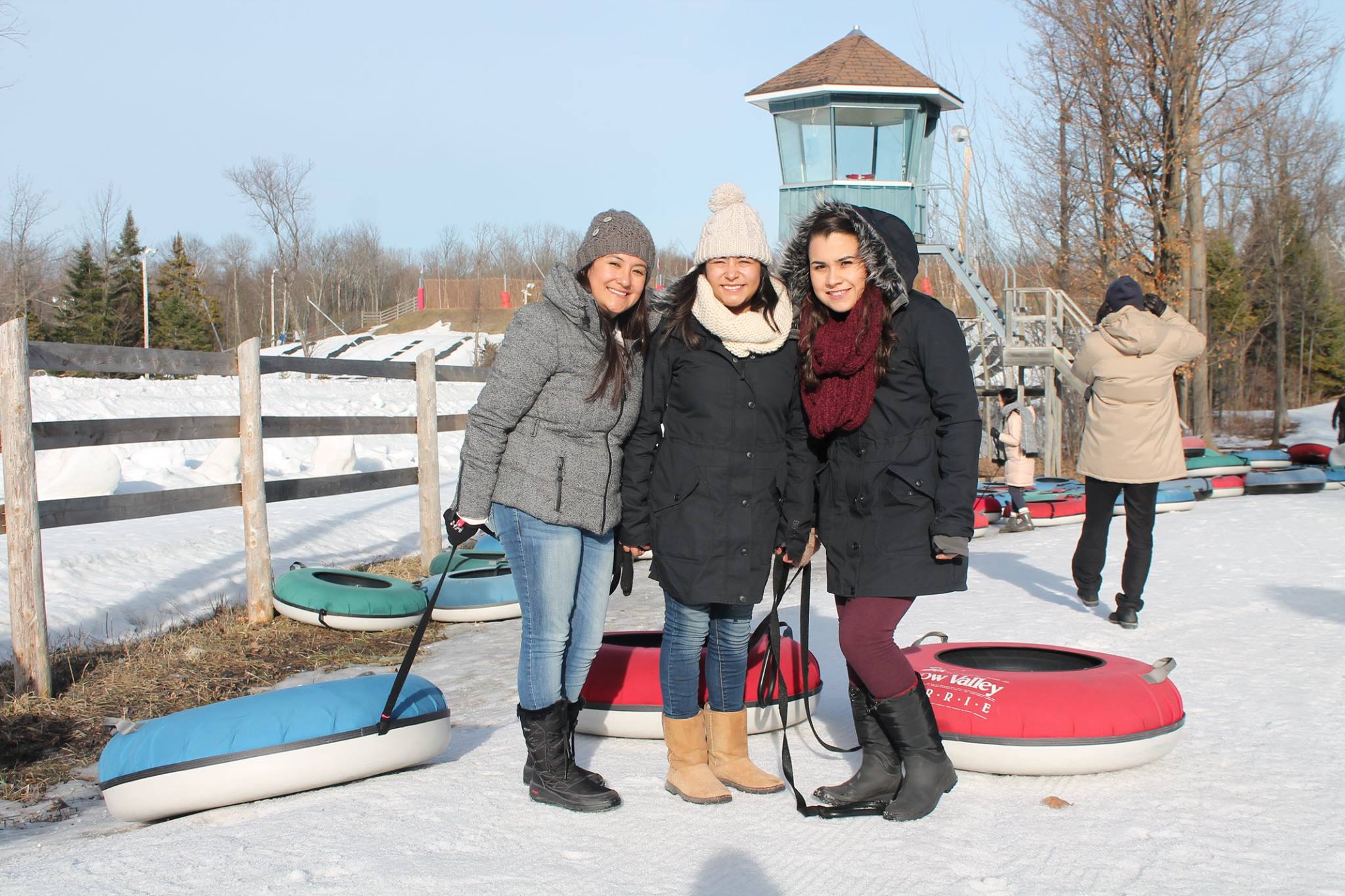 EVERYONE CAN DO THIS TRIP! No previous experience are needed for snow tubing or snowshoeing!
Join our trip to Snow Valley and try two real Canadian activities – snow tubing and snowshoeing.
Snow Valley has one of the best snow tubing rides in Ontario and you will have lot of fun. You can slide down the hill alone or with up to 4 friends in the same time!
Why is snow tubing so popular? Because everyone can do it. There's no need for special and expensive equipment, no special skills needed. Just sit on the tube and lets go!
We will drive to Nottawasaga Bluffs Conversation area after snow tubing where you can try another truly Canadian experience – snowshoeing. We will provide the snowshoes and poles. The Nottawasaga Bluffs Conservation Area is a 400-acre jewel on the Escarpment. The unique geology has created a veritable land before time, as deep crevasses cut their way through the hardwood and coniferous forest. Open fields, towering limestone bluffs, and woodlands carpeted in green undergrowth provide the backdrop for one of our area's hidden gems.
Return transportation in 15 passenger van or minivan
Snacks – Granola Bar
Hot Chocolate
Snow Tubing
Snowshoeing
Snowshoe Renta
Travel Insurance
Bug Spray
Personal Expenses
Snacks
Searching Availability...
Hand Sanitizer
Bug Spray
Sunscreen Lotion
Sunglasses
Warm Cloth
Rain Jacket
Swimming Suit
Towel
Hiking or Running Shoes
Snacks
Winter Jacket
Hat, Gloves
Winter Boots
Hand and Foot Warmers
Warm Socks
Availability Private Tours

8 am

10.00 am - 12 pm

1.30 pm - 3.00 pm
8 am
Pick Up
Dufferin Mall, Beer Store 904 Dufferin Street Ripley's Aquarium
10.00 am - 12 pm
Snow Tubing
2 hours of unlimited tubing
1.30 pm - 3.00 pm
Snowshoeing
Snowshoeing at Nottawasaga Bluffs Conversation Area
What are the Covid-19 Health and Safety Measures?
We take seriously all health and safety measures and we ask you to stay home if you are feeling sick and have fever. On our tour all customers and tour guides have to:
- wear mask all the time during a tour
- practice social distancing
- use hand sanitizer
- wash hands
- sneeze and cough into their sleeve
- don't share food and drinks unless they are from same household
Please bring your own mask and hand sanitizer. If you will forget mask, they will be available for purchase. Hand sanitizer will be available for use during the tour.
Temperature will be checked before the tour. If any participants will have fever, they won't be allow to join the tour.
Please be responsible and co-operate with the tour guide. We are all in this together and yours and tour guide's safety is our priority.
Do I need any hiking experience?
No, you don't. Our tours are designed for beginners.
What is the age group joining the tour?
The avarage age group is 25-35 however we can have younger or older people joining the tour. As we are small groups only, everyone gets along together very well.
Can I join the tour as a solo traveler?
Yes! Most of the people joining our tours are solo travelers. As we travel in small groups only, it's very easy to make new international friends!