Destination
Flowerpot Island
Information

Tour Plan

Location

Gallery

Similar Tours

Frequently Asked Questions
What's included
Additional Information
Availability: May - October
Additional Prices
Private Tours: From $690 CAD$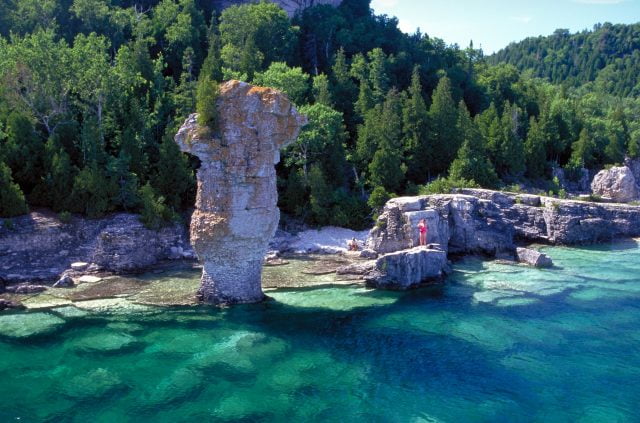 Let´s head to the tip of the Bruce Peninsula and explore the rugged landscape and shipwrecks! The Bruce Peninsula is home to a variety of animals, including black bears, the Mississauga rattlesnake, and the barred owl.?Join us for one day trip to Bruce Peninsula and explore famous Flowerpot Island, Inglis Falls and Tobermory.
Our first stop will be at Inglis Falls. Inglis Falls is an 18 meter high cascade, created by the Sydenham River meeting the edge of the Niagara Escarpment.
Next stop will be in Tobermory. After the lunch, you will get a free time to explore town, get ice cream, coffee or visit one of the local shops.  Our last stop of the day will be at Flowerpot Island. We will take a glass bottom boat and cruise around a lighthouse to Big Tub Harbor to see shipwrecks on the way to Flowerpot Island.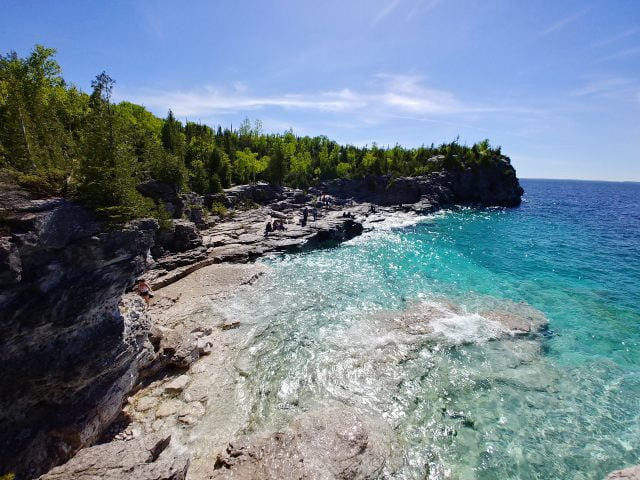 Flowerpot Island
Just 6.5 kilometers off the coast of Tobermory lies Flowerpot Island. This island is one of Canada's most fascinating natural attractions. Flowerpot Island is famous for its natural sea stacks, also known as the "flowerpots". Also, Flowerpot Island offers adventurers an opportunity to explore caves, hiking trails, a historic light station and variety of rare plants. While the island is only accessible only by boat, Flowerpot Island is the only island in Fathom Five National Marine Park with campsites and hiking trails.
You will have enough time to hike around the island and swim by flowerpots.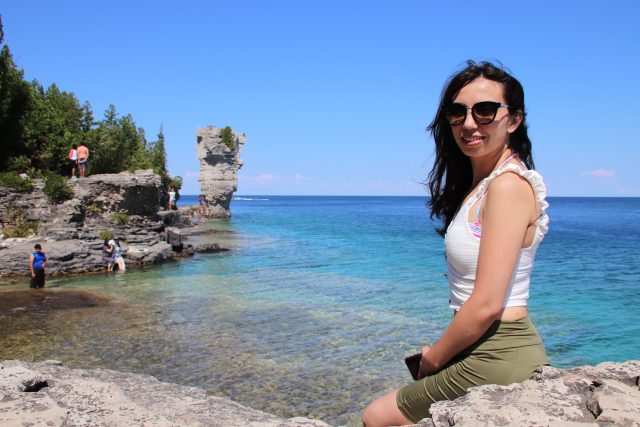 PICK UP LOCATION
7.00 AM
Dufferin Mall, Beer Store 904 Dufferin Street
7.25 AM
Wilson Subway Station (Pick up and drop off area)
8 AM
Brampton Williams Pkwy Carpool Lot on Hwy 410
Please note, that the itinerary might change due to the weather conditions. The boat might be cancelled due to the strong winds. The boat is usually canceled at the same day as the tour is scheduled . In this case we will visit a Devil's Monument, where you can see the largest inland flowerpot of Bruce Peninsula (in this case we will refund the cruise fee). 
Return transportation in 15 passenger van or minivan
Snacks, bottle of water
Lunch Box (Sandwich – chicken or veggie, dessert, OJ)
Guided Hiking
Boat Tour
Swimming
Breakfast, Dinner, Drinks
Face Mask
Travel Insurance
Bug Spray
Personal Expenses
Searching Availability...
Face Mask
Hand Sanitizer
Bug Spray
Sunscreen Lotion
Rain Jacket
Swimming Suit
Towel
Hiking or Running Shoes
Snacks
Water
Lunch
Breakfast
Availability Private Tours

Shipwrecks viewing and hiking Flowerpot Island
Flowerpot Island

Flowerpot Island is an island in Georgian Bay, in the Canadian province of Ontario, and is a part of Fathom Five National Marine Park. The island spans 2.1 kilometres from east to west, and 1.5 kilometres from north to south, and has a total area of 2 square kilometres.

7 am

10.30 am - 11 am

12 pm - 1.30 pm

1.30 pm - 4.30 pm
7 am
Pick Up
Dufferin Mall, Beer Store 904 Dufferin Street Wilson Subway Station (Pick up and drop off area) Brampton Williams Pkwy Carpool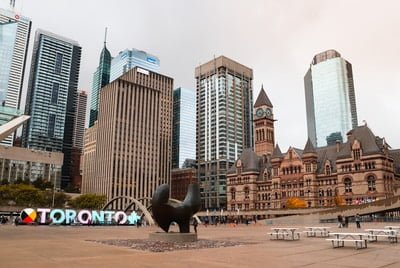 10.30 am - 11 am
Halfway Log Dump...
12 pm - 1.30 pm
Lunch
1.30 pm - 4.30 pm
Flowerpot Island
Flowerpot Island Hiking and Swimming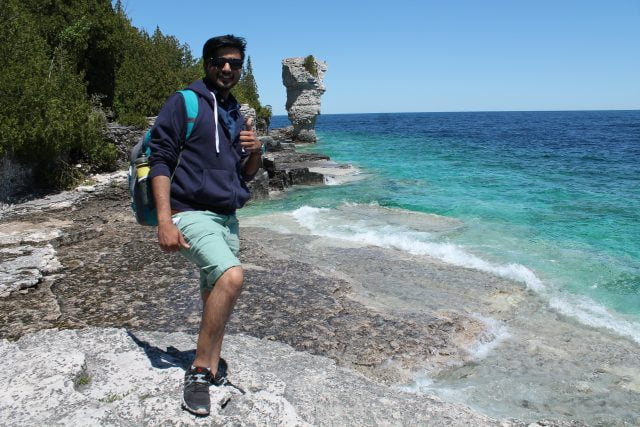 More about Flowerpot Island
What are the Covid-19 Health and Safety Measures?
We take seriously all health and safety measures and we ask you to stay home if you are feeling sick and have fever. On our tour all customers and tour guides have to:
- wear mask inside of the van
- practice social distancing
- use hand sanitizer
- wash hands
- sneeze and cough into their sleeve
- don't share food and drinks unless they are from same household
Do I need any hiking experience?
No, you don't. Our tours are designed for beginners.
What is the age group joining the tour?
The avarage age group is 25-35 however we can have younger or older people joining the tour. As we are small groups only, everyone gets along together very well.
You don't have to swim, it's optional.