Fall Color Hiking
Visit the biggest ski resort of Ontario in fall season and explore caves
Information

Tour Plan

Gallery

Additional Info

Similar Tours

Frequently Asked Questions
What's included
Departure Location
7.00 am - Dufferin Mall pick up, meeting in front of Beer Store 7.20 am - Ripleys Aquarium
Return Location
Dufferin Subway station Wilson Subway station
Additional Information
Availability: May - October
Price includes
Guided Hiking

Park Fees

Return transportation in 15 passenger van or minivan
Additional Prices
Private Tours: From $750 CAD$
Join us for one day tour to Blue Mountain region. Visit Scenic Caves, Blue Mountain village and hike Nottawasaga Bluffs Conservation area.
We will start with the Scenic Caves hike. We will walk over the Suspension Bridge from were you can take beautiful pictures of Georgian Bay. We will explore caves and caverns after Suspension Bridge walk.
Scenic Caves was once home to the Petun First Nations people and currently situated within one of Canada's 18 UNESCO sites.
Descend into the crevasse and explore a labyrinth of caves and caverns 70 ft below the surface. The rewards are plentiful with multiple panoramic vistas of Georgian Bay along limestone cliff edges.
Suspension Bridge
Fun and adventure at the highest point on the Niagara Escarpment, venture across Southern Ontario's longest suspension bridge and see the magnificent views.
Our next stop will be in Blue Mountain village. You can bring your lunch or have lunch at one of the restaurants in the village. We will also drive on the top of the mountain so you can take a picture of Blue Mountain village and Georgian Bay from the top of the hill.
Last stop will be at Nottawasaga Conservation area.  The Nottawasaga Bluffs Conservation Area is a 400-acre jewel on the Escarpment. The unique geology has created a veritable land before time, as deep crevasses cut their way through the hardwood and coniferous forest. Open fields, towering limestone bluffs, and woodlands carpeted in green undergrowth provide the backdrop for one of our area's hidden gems.
If you would like to visit Blue Mountain resort in the winter, join our ski trip here.
Return transportation in 15 passenger van or minivan
1x Breakfast, 1x Lunch, 1x Dinner
2 Nights Camping
Guided Hiking
Full Day Rafting
Kayaking, paddle boarding
Swimming
GoPro pictures and videos
Tent, sleeping bag, flashlight
Travel Insurance
Bug Spray
Personal Expenses
Snacks
Searching Availability...
Hand Sanitizer
Bug Spray
Sunscreen Lotion
Sunglasses
Warm Cloth
Rain Jacket
Swimming Suit
Towel
Hiking or Running Shoes
Snacks
Tent
Sleeping Bag
Camping Pad
Flashlight
Availability Private Tours

7 am

10 am - 1 pm

1 pm - 3 pm

3.30 pm - 5 pm
7 am
Pick Up
Dufferin Mall, Beer Store 904 Dufferin Street Wilson subway station  
10 am - 1 pm
Scenic Caves Hiking
Scenic Caves and Suspension Bridge Hiking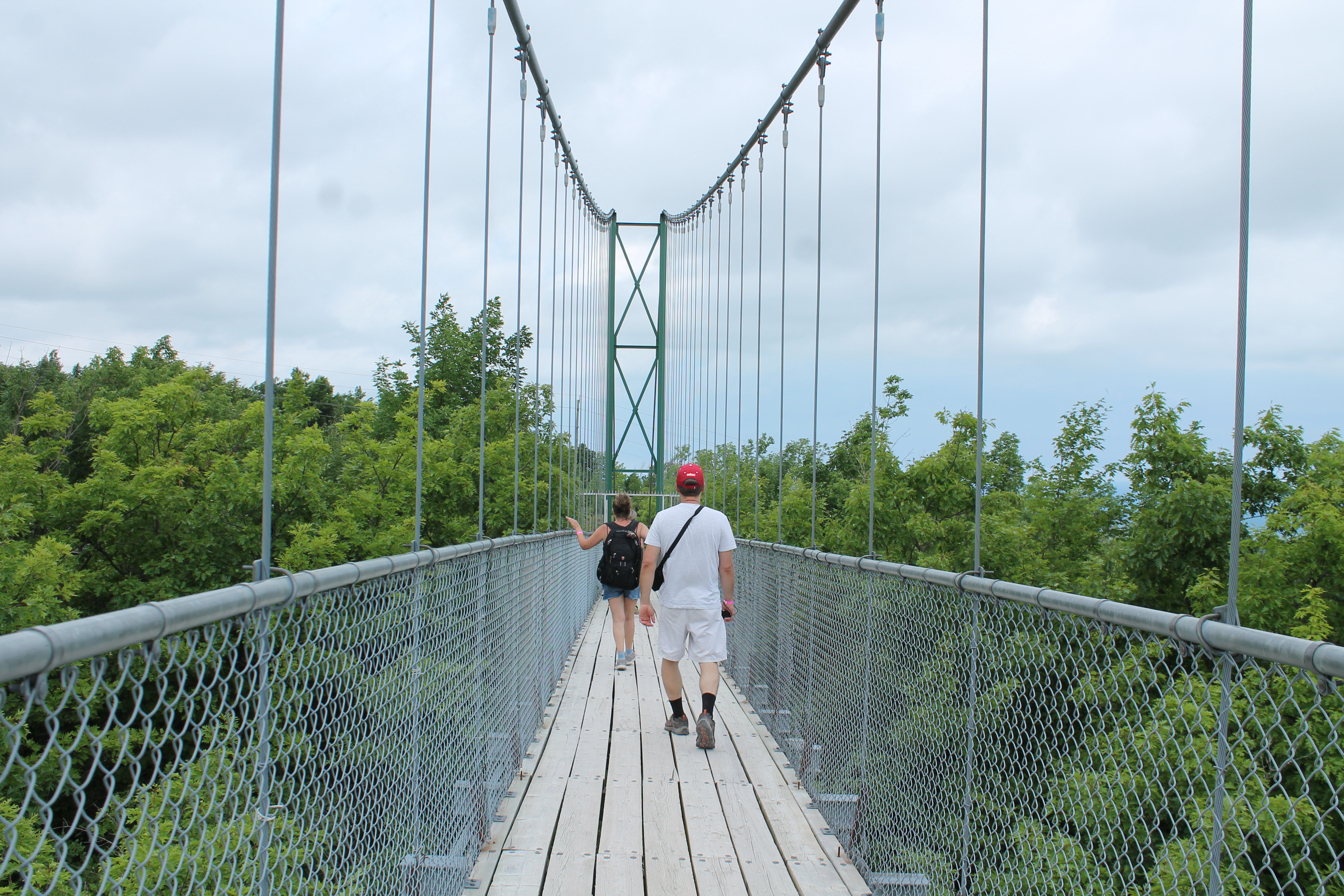 1 pm - 3 pm
Blue Mountain Village visit
Blue Mountain Village visit
3.30 pm - 5 pm
Nottawasaga Hiking
More about this tour
Set within one of Canada's sixteen UNESCO biosphere reserves, you are invited to find the beauty and wonder in ancient places and open spaces. Lookout points will surprise you on most of our trails with vast panoramic vistas, perfect for picture-taking or just soaking in the beauty of Mother Nature. To find the peak viewpoint within our property journey to our Suspension Bridge. Take in the tops of the trees, fresh air and an amazing view of all of south Georgian Bay. This was a bridge built specifically to experience the breath-taking view spot!
Do I need any hiking experience?
No, you don't. Our tours are designed for beginners.
What is the age group joining the tour?
The average age of the group is 25-35 however we can have younger or older people joining the tour. As we are small groups only, everyone gets along together very well.
Can I join the tour as a solo traveler?
Yes! Most of the people joining our tours are solo travelers. As we travel in small groups only, it's very easy to make new international friends!